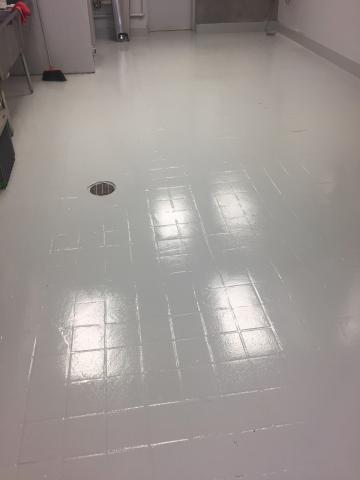 Improve Your Old Tile Floor
Do you have a room you would like to freshen up but the old tile in there makes the job feel like it's more than you want to take on? 
Guess what? you don't need to remove the tile!
We can epoxy right over it.
Of course preparation of the tile is key and that does take some work.  But as you can see in this image, it makes a big difference.
We have equipment that vacuums as we grind which effectively reduces the dust when grinding the glaze off the tile.  They also wet vac so when we scrub the floor to reduce any dirt in the grout the water in the room is also minimized.
This was for a commercial kitchen, and we used a single color to coat the tile. However a chip or quartz floor could also be applied.
The key thing to remember: You don't have to remove the tile!
Not to mention grinding down all the grout and find new tile, or hiring an installer.
Let us help you, just contact us, and we can have a conversation. We can take a look at your project - which only costs you time.